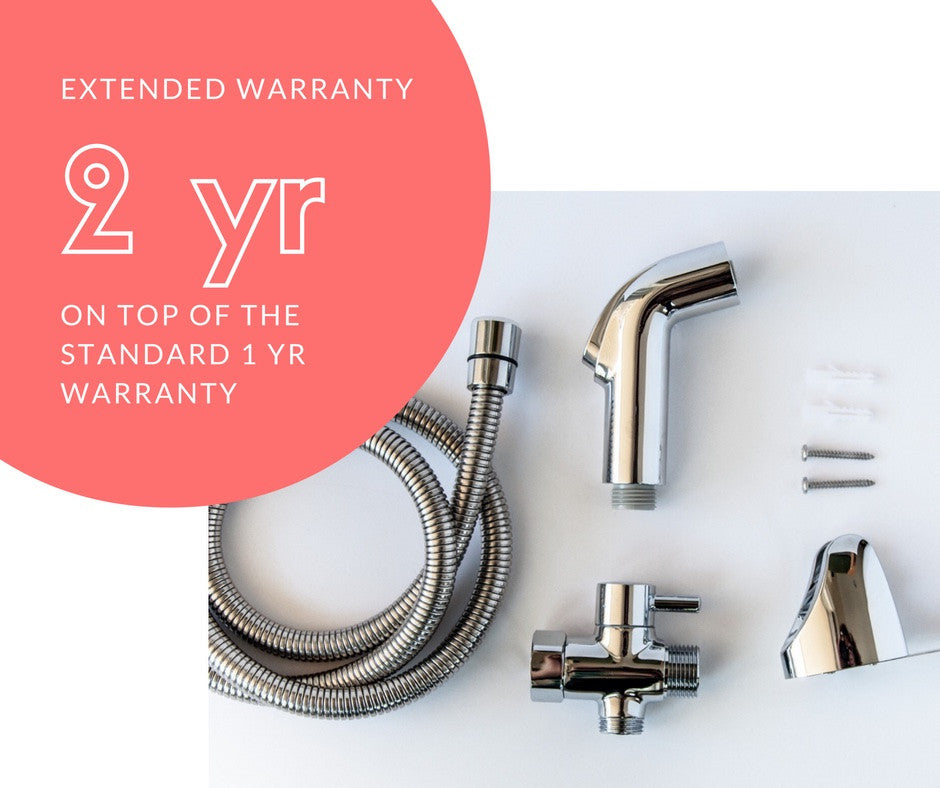 Extended Warranty (additional 2 years)
In addition to the standard 3 year warranty (on purchases made after July 2018) we also provide an optional warranty extension of 2 years. We offer it to our customers for additional peace of mind. Warranties for an order are only valid when purchased within 2 weeks of the bidet purchase, and only applies each to one order.
The extended warranty covers the following:
Leaks that may start to exist on any part of the product through regular wear and tear; hose, t-adapter, spray head, wall/tank mount

Breakage of any of the above mentioned parts

Spray head button stickiness (if the spray head button starts to become faulty and hard to press/lock)

Unlimited fixes/replacements of the parts in question during the life of the warranty

Includes free shipping of the new parts in question
How to initiate the claim:
Send an email to hello@getnadeef.com with your warranty order number
Attach a picture or video of the defect in the email
Your new part will arrive in the mail shortly thereafter
Rules of initiating the warranty:
Each warranty only applies for one product. If your home has 4 bathrooms and you purchase one for each, you would need to purchase 4 warranties to cover all the bidets. However, if you choose to purchase just one warranty, you are free to choose which product to apply it to retroactively of any defect arising. Ie. You don't need to claim which bidet the warranty is used for, if any defect comes to be, you can choose to apply the warranty for that specific one.
Installation must be done properly, using the instructions provided on the website and on the instructions on the box.
Parts are only tightened. Using tools to tighten any of the parts will void the warranty. Using tools can lead to over-tightening which can damage the item and cause cracks.
You must have the order number of the warranty on hand to initiate the claim.
This warranty only covers defects for the hand-held bidet; the hot-water mixer valve and hose is NOT covered under this warranty.